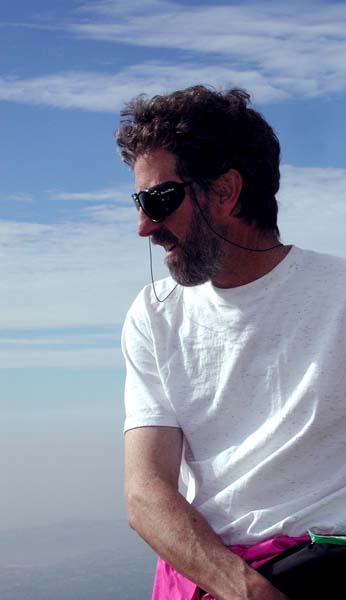 Bruce Wallace
8/14/1948 - 9/20/2002
Fatality Report
It probably goes without saying that this is not a report that I wanted to write. Perhaps it was selfish of me to think that I could avoid writing it all together. But I think that the story needs to be told before the rumors take over. And writing it is therapy for me as well.
So I will tell the story, and hopefully I can just tell the facts and leave out the unnecessary things like opinions, and judgments. And hopefully as the events are discussed among others they will also leave out the opinions and judgments. Bruce was a great man and a great pilot and he died doing what he loved.
Bruce and Tom Pipkin began the drive from Ojai to Lone Pine on Thursday afternoon around 4:00 pm. Kristi and I left from Ventura at about 4:30. We wanted to meet for dinner at Grazianos in Mojave, but by the time Kristi and I got there, Bruce and Tom were just finishing up their sandwiches. Kristi sat next to Tom and gave him a hug hello. I looked at Bruce and said "you don't get a hug!" then I made a sour face as he hugged me anyway and cackled about it.
When we got to Lone Pine, Kristi and I set camp at Tuttle Creek Campground and then the four of us sat around the campfire sharing a bottle of wine and telling stories about flying and climbing and experiences we had shared. It was a great evening with a warm wind and towering Sierras lit up by the full moon.
Around 11:30 pm Bruce and Tom retreated to their hotel room in Lone Pine and we agreed to meet at 9:00 a.m. at the Whitney Cafe.
The next morning, after breakfast, the four of us drove up to Walt's Point. Winds were light and the sky was clear. At launch there was an E-Teamer HG pilot (Mickey) setting up with his wife/girlfriend helping. We chatted with him briefly about the conditions, but we were mostly doing our own thing.
Mickey launched at 11:30 and headed out to the valley after only a couple turns. We were a little discouraged by the seemingly poor lift and opted to wait a little for some more heating. I launched first at 12:15 and Tom P spread out right behind me.
The house thermal was working and I was 1000 over without too much work.. The air was active, but not what I would consider "booming". (In the 3.5 hours that I flew my max lift was 1000 fpm and max alt was 12500).
Tom P had some trouble launching in the light winds and that put some space between us. I was nine miles down range before Tom and Bruce got in the air. I believe they launched close together at about 12:45.
Kristi was driving for us and we did little more than report our positions initially. There were times when it was quite difficult to communicate due to terrain interference, or chatter coming out of Bishop, but Kristi was diligent about calling for status every 10 minutes. Bruce was on course and checking in, but he only made two transmissions before we lost contact with him. It was just after 1:00 pm that Kristi wasn't able to raise him on the radio. Tom and I also tried with no luck. That's when the worrying started.
Kristi had a bad feeling about it immediately and questioned whether she should stay on course with me, or go back to try to raise Bruce. I told her to stay on course, losing contact for a while is not that uncommon. She stayed with me, but she couldn't settle her nerves about Bruce, and at 1:30, less than half an hour after losing contact, she called the Ranger Station to report a possible problem. They put her through to the Sheriff's Office who told her they would put the word out to CHP and that she should call them back at 4:30.
I landed in Big Pine at 3:45. During the entire flight we were making radio calls to Bruce and not getting a response. Tom P reported last seeing him near Mt. Langley.
As soon as I got in the truck, Kristi again called the Sheriff's office. She told them that we were on our way back to Lone Pine and that we would keep trying for him on the radio. She was told to check back with them when we got to Lone Pine. Tom P came up just about a mile short of Big Pine and got a boost into town. We picked him up and were Southbound by 5:00 pm.
At 6:00 pm, back in Lone Pine, we still had not been able to raise Bruce on the radio, and his car was still at the Whitney Cafe. I spoke to the head Search and Rescue Sheriff who told me it was too late to get a helicopter out so I should call him back at 7:00 a.m. if we didn't hear from him over night.
Bill Bailey, arrived that night with John and Susan Kloer. In the morning, while Kristi and I were meeting with the Sheriff, Bill and Tom P chartered a private plane and flew for an hour and a half over the area where Bruce was last seen. I was certain that the radio transmissions from the air would soon have him back with us.
By 10:00 a.m. the helicopter search had begun. I'm sure I don't need to write out the obvious stress and worry that occurred throughout the rest of Saturday and into Sunday. While the helicopter was searching, the rest of us drove around calling on the radio. The support we got from other pilots and Lone Pine residents was overwhelming and too numerous to mention them all. The private pilot that flew Tom and Bill around for an hour and half on their morning emergency call charged them $80 for the flight. I doubt they would have blinked if he had said $800. The lady that worked at the Lone Pine Airport drove into the mountains and hiked some areas she thought he might have gone down. Tony Deleo, along with the rest of us with wings, volunteered to re-fly the course in a search, but the Sheriff asked us to hold off until Monday. The Sheriff himself was responsive and compassionate despite the barrage of suggestions he received from us and the pressure we gave him to act on them.
They found him at 11:30 a.m. on Sunday, 9/22/02. By that point they had 3 helicopters working on an expanded grid that was covering hundreds of square miles of wilderness. He was on the South East ridgeline of Langley Peak, right where Kristi and Tom said they had seen him last. His wing was draped over a pinnacle of rock, he was still in his harness, and his water was full. The search and rescue guys as well as the coroner said that without question he died immediately on impact. His reserve had not been deployed.
He was not deep in a canyon, or too far back in the mountains. From his position he could have easily made the glide out, even against a headwind.
I don't know what else to say right now. I'm frustrated, upset and deeply saddened by the tragic loss of good friend. Bill Bailey, Tom Pipkin, Kristi and I worked together on this throughout the weekend and I can't imagine 3 more dedicated and compassionate people with whom to share such an experience.
Bruce is survived by his wife Marilyn of 30 years and four children from 16 to 24 years old.
Respectfully Submitted by Brendan Pegg on 9/23/02
---
Flytec 4020, set to record in 15 sec increments.
Launched at 11:47 AM; Alt 9,000 ft
Thermaled to 12,000 ft
Glide to 11,500 ft
Thermaled to 12,142 ft
Glide to 10,992 ft
Thermaled to 11,378 ft climbing at 220 fpm
Flight ended 12:22 at 11,286 ft
Flight time: 34 min 45 sec
Final climb: gained 386 ft in 3 min 15 sec

average climb rate of 220 fpm

Last descent: lost 92 ft in one minute

average descent rate: 92 fpm
Info from GPS
Flight time: 39 min 58 sec
Max Elevation: 12,314 ft
Total Ascent: 5,560 ft
Final Location: N36 31'37.2" W118 11'56.7"
Since the GPS continued to record past the end of the flight, the track log was overwritten on the wrap